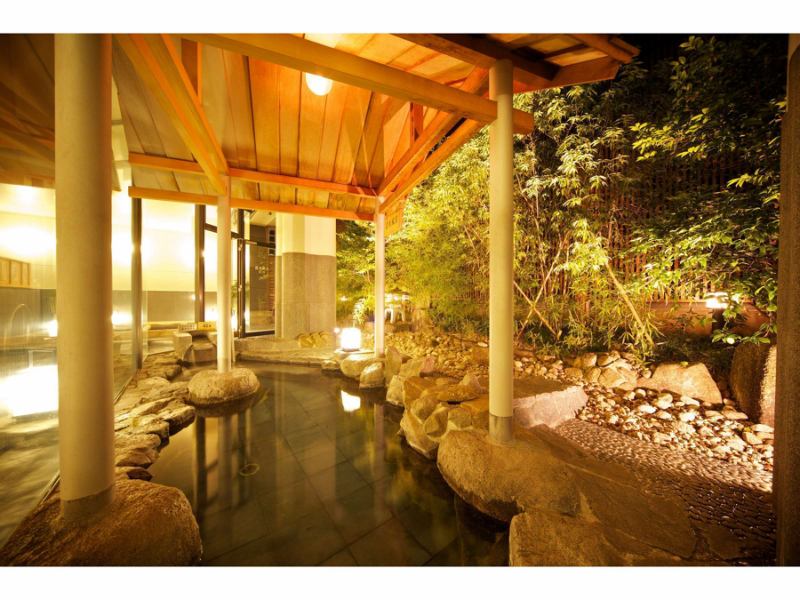 Japan's oldest hot spring, Dogo, which appears in Nihon Shoki.             Please enjoy a relaxing time to heal your tiredness.



The first thing to welcome you heading for the public bath is Yukemuri Road which is reminiscent of old townscapes.
Passing through the atmosphere full of ambience, the space where sumptuous stone and wood is comfortable is the space that reaches.
A famous hot springs will heal the tiredness of the trip, which kept springing from the old days of three thousand years.
Atsuyu, lukewarm water, hammered water, open-air bath, sleeping bath, sauna.Please enjoy the spacious and comfortable space.
As you wish.
Please leave the daily bustle and enjoy the best time.

【Opening Hour】
From 5:00 to 9:30 / 12:00 to 24:00(A bid)
The public bath is 100% Dogo Onsen.The inside of the bathtub keeps temperature maintenance and cleanliness by heat exchange circulation filtration type.
In addition, Utasone uses 100% Utaseyu of the casting type.
Regarding the sterilization of Legionella bacteria, etc., the latest chlorine sterilizer keeps the chlorine concentration at a low concentration that does not affect health, and it always complies with the inspection standards of the health center, so you can take a bath with confidence.

※We have prepared a lift for those with poor feet on the stairs leading to the public bath.
※You can also enjoy using outdoor bathing on a day trip.
※We will refuse the use of people with tattoos, tattoos and those who are drunk.
| | |
| --- | --- |
| Hot Spring Qualities | Alkaline simple hot spring(Hypotonic alkaline high spring) |
| Efficacy | Neuralgia, muscle pain, Arthralgia, Frozen, Motor paralysis, Joint stiffness, A bunch, Awkward, Chronic gastrointestinal disease, Hemorrhoid, Coldness, Recovery period after illness, Recovery from fatigue, Health Promotion |
Passing through the atmosphere full of atmosphere, to the famous hot spring which continues to spring up from the past three thousand years.



The first thing to welcome you heading for the public bath is Yukemuri Road which is reminiscent of old townscapes.
Before passing through this atmosphere full of atmosphere, the familiar hot springs that smell with the spirit of Japanese style full of nostalgia will heal the tiredness of the trip.
After graciously becoming familiar with the hot water, please spend the leisurely and relaxing moment.



Gentle to body hot in hot springs, mineral water pumped up from the underground well
We are preparing gentle tea for body made from the water.(Free)
Please relax and have a relaxing time in the bath.

In addition, in the teahouse after the bath, there is no tatami mat break, and it is sweet, snacks, Dogo local beer,
Drinks such as draft beer are also available.

≪Notifications≫
※We will stop eating and drinking for the time being as a countermeasure against the new coronavirus.
※Massage chairs and drink servers are available.

■Bathing in the tea house opening hours
※Massage chair, mineral water · tea server within public bathing opening hours
 It is available anytime.(5: 00 to 9: 30, 12:00 to 24:00)
- -, Information on a day-trip hot spring, - -
≪Notifications≫
As a measure against the new corona, outpatient bathing (day trip bathing) will be canceled for the time being.

※Guests can use it as usual.
※Dogo-kan members and those who have a member bathing ticket can continue to use it.
■Opening Hour■
12:00 to 24:00(Farewell 23: 00)

■Charge■
Adult 1,100 yen included,Elementary school student 800 yen included,Children Below Elementary School Age Free
※Fees change on special days, such as New Year's holidays.Please contact us for more information.

We are equipped with towels and shampoo, so it is okay to come by hand.
There is a locker with a lock in the changing room.

■Request from the hotel■
Please wear a mask when you come.